Cat Behavior Consulting
Is your cat eliminating outside the litter box or scratching furniture?
Does your cat bite or scratch you, seemingly out of the blue?
Does your cat run and hide when you bring out the carrier?
Does your cat hiss and swat at other pets?
I hear you! These are common cat behavior complaints. I know from firsthand experience how frustrating they can be.
The good news is that the majority of these issues can be resolved through a combination of changes in the home environment and behavioral training.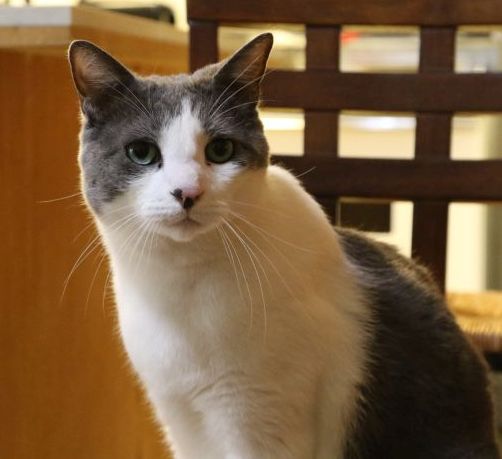 How It Works
It starts with a virtual meet & greet:
Tell me about your cat and your family, your challenges, and your goals. I will tell you how I can help you.
If my services sound like a good fit, we'll schedule a consultation package. I'll give you a starting point to work on.
The virtual meet & greet is 20 minutes for $49, paid for at the time of booking.
The cost is applied toward the package price when you schedule a consultation.
For packages, a 50% deposit is due at the time of booking. The balance is due at the first consultation. Payment plans are available.
Delivery
All consultations are available remotely.
In-home consultations are available if you are within a reasonable distance from Lake Oswego, Oregon (US).
In-home consultation within 30 minutes' drive
add $50
In-home consultation more than 30 minutes away
additional mileage
charge will apply
IMPORTANT:
If you have concerns about your pet's health, please contact your veterinarian.
I am not a veterinary professional. Therefore, I cannot provide any medical advice.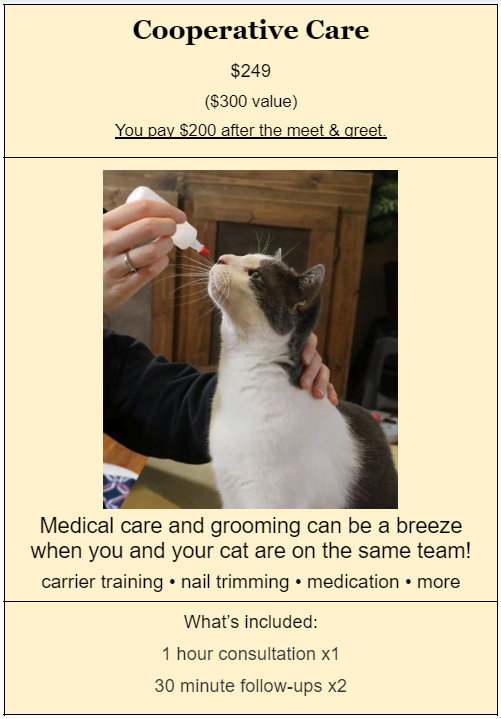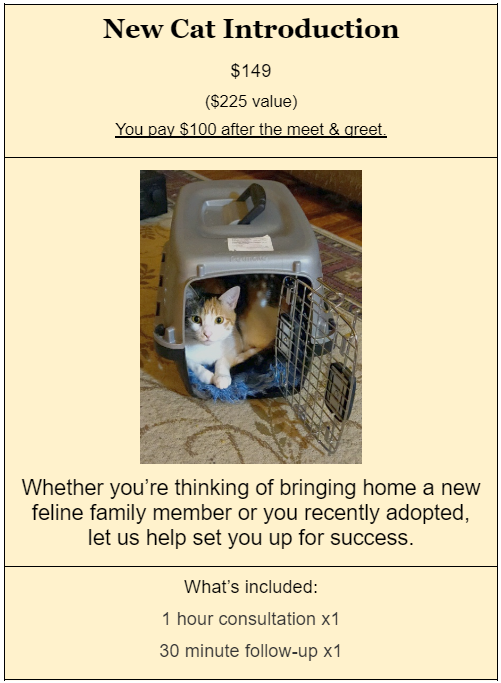 FAQs
What can I expect?
I will work with you to help you understand your cat's behavior and develop a personalized training plan that fits your lifestyle.
How long does it take?
Training with your cat is an ongoing process.
For problem behavior, some issues are relatively straightforward and can be resolved with only a few sessions.
More complex issues and long-standing behavior patterns take longer.
In most cases, you will start seeing small improvements right away. Realistically, it may take anywhere from a few weeks to several months to fully resolve.
Do you offer a guarantee?
Each cat is an individual. I cannot guarantee how your cat will respond.
What I can promise is that I will do the best I can to meet you where you're at and find a solution that works for everyone.
If my services aren't the right fit, I will gladly refer you to another qualified professional.
More Questions?
If you have questions or you're not sure which package is right for you, reach out!